It has been over 4 months now since St Patrick's Day celebrations in St Andrews were cancelled and our university closed its doors for the foreseeable future. At least… I think it's been 4 months, as Jeremy Usborne (Robert Webb) of Peep Show explained in an old clip that popped up on my Facebook Watch feed: "We're in the nether zone, time moves at a different speed in the nether zone." In contrast, his friend Mark Corrigan (David Mitchell) exclaimed "we have an obligation to be anxious!" in the same situation. Though, in Peep Show's case, they were locked in the lobby of a block of flats with no phones, not staying indoors as a result of a pandemic. However, I do find myself thinking both Jeremy's chilled and Mark's alarmist attitudes can be related to my time as a starling in quarantine.
I relate to Jeremy because lockdown is not something that phases me like it does many. In fact, I've experienced isolation before. 8 years ago, I was diagnosed with cancer and spent a large part of 2012 in a hospital bed receiving treatment. Furthermore, even when freed from the hospital, doctors advised me to avoid crowded places because chemotherapy had significantly damaged my immune system. I also felt rotten anyway. In comparison, I have been much more "well" during this isolation experience. For example, I've been able to catch up on my favourite shows, performed terribly at Zoom quizzes with friends, became obsessed with Hamilton on Disney+, and I've even started exercising more than just walking to the kitchen to get a bar of Cadburys Dairy Milk. In general terms, lockdown has not been an awful experience for me.
On the flip side of the coin, I relate to Mark's worrying because as a result of my previous illness, my oncologist considers me 'vulnerable' to COVID-19 complications. Due to this, my family and I have been taking extra precautions, disinfecting shopping deliveries and quarantining post for 3 days. This is quirky and perhaps overly cautious but at the same time, this virus is dangerous, and it is still circulating. I've had friends tell me on multiple occasions how excited they are to return to St Andrews in September. I share their excitement, of course, but I can't help feeling worried. My anxiety isn't unfounded; I was horrified by the images at Bournemouth beach last month. Furthermore, each day I see more and more people on my Instagram posting photos lacking distancing from friends and even hugging each other. Rest assured, they haven't received any likes from me!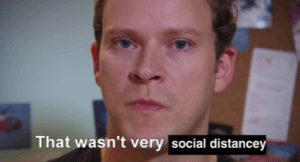 On a more serious note, it's as if many people are "over" the pandemic despite it not being over. I can see why they would feel that way. We've spent a great deal of 2020 indoors and isolated from loved ones. Many people have been untouched by COVID-19 until now, and there is also evidence that younger people are less susceptible to extreme symptoms. For someone like me though, with every Instagram post I spot which lacks social distancing my apprehension surrounding restarting university this Autumn increases. Even isolating students from 'red' countries with higher infection rates serves as little comfort when St Andrews has thousands of students from Scotland's neighbour England which has the highest death toll in Europe. An outbreak in St Andrews seems almost inevitable to me, though I hope I'm wrong.
Nonetheless, whether I feel comfortable or not, economies are re-opening and I do cautiously welcome this. I have missed the experience of going to Rectors Cafe for a London Fog. I also yearn for another RockSoc club night or a Sound of Sandy's gig. The latter two are things I likely have a long wait to experience again, at least in their traditional form. In the meantime, as society transitions into a more ordinary way of life and in Scotland cases continue to be under control, I may consider a halt to quarantining my post. There are however no signs of me Instagramming photos too close to my friends in the near future. Hopefully, student life will be able to return to some form of normality sooner but also safer than I expect, and we will be able to enjoy many of our pre-lockdown activities once again. To return to Peep Show for a final time, all I can say is…